Soul Music!!
According to this document made available by the University of Michigan called, "What Is Soul?" and "What Is Soul Music;" "The word soul found its way into the discourse of American popular culture initially through music and spread out from there. African American essayist and playwright Amiri Baraka (LeRoi Jones) notes that in the 1950s the word was used by jazz musicians and critics alike to characterize a movement within jazz to reclaim and revitalize a musical tradition that had been repeatedly co-opted by mainstream and corporate culture."
I have to make a confession to you guys. Ever since I saw that Whole Foods commercial with this song in it, I've gone crazy I think.. I absolutely love this song. This 1963 song was a huge hit 4 years before I was born. I've listened to such a variety of music growing up, I can't say for sure I've heard it before. But man…. If this was out on a 45rpm record to day, I would have certainly played this to the ground. LOLOL It has a catchy tune. This girl group is loud, yet talented. Their harmonization on this record reminds me a lot of groups like The Bluebells. I highly recommend my followers check the song "Every Beat Of My heart." In fact, I've heard quite a few of their music since then. Look for them on your favorite streaming service.
Now, first off, I never heard of Lee Fields and The Impressions. Surprisingly, they've been around since the late 60's, and I'm kind of a shamed that I never heard of them, 'cause their music is darn good. I guess this only proves just how vast our music culture actually is. You know, his music and sound reminds me a lot of Charles Bradley (in fact, he kind of looks like him too). I've searched hard on the net, and I can't seem to find any of his songs on the billboard charts. However, I did see an article written about him on the Billboard website. That is such a beautiful thing, this can only mean that he has worked with a lot of big names in the business, and the fact that Billboard recognizes his contribution (a long with his band) to music is huge (despite not landing anywhere on the charts)!
I 🖤 the fact that he kept practically all his albums' vibe Black old school!
I love the fact that he kept his vibe old school. In fact, I had no idea that most of his albums in the last 10-15 years where not 70s music. The classic authentic(ness) was unreal! The soul in his voice was so present… It was phenomenal guys. I'm not sure if my young followers could understand. But, this was what people of my age group considering real talent, real soul, and real voices. I don't even have a song to recommend, because I've liked so many. If you love jazz and soul music, definitely listen to these guys album, "Big Crown Vaults (2020)" The first song, "Two Timer," I really loved. But, I think I've enjoyed the entire Album. Check it out!
Well, I don't know if this was Teddy's greatest album, but certainly no doubt it was one of his popular ones. One of the biggest songs I remember from this album is "Love T.K.O.," this song was almost anthem like in the Black Community. This was a song that almost everyone enjoyed listening to when I was growing up. It's a shame, we lost an incredibly talented voice at a young age. This is why it's important to keep our Black music history alive. Oh, yeah, check out "Feel The Fire," another huge hit for Teddy.
I remember listening to this album quite a bit growing up. As I've said before, Al Green had an incredible unique musical style. When we hear the first note of one of his instruments on his record, we instantly know it's Al Green. Been listening to this album a bit recently. My favorite is "Tired Of Being Alone," and "I Stand Accused."
Song: Back Together Again
Artist: Donny Hathaway & Roberta Flack
Album: A Donny Hathaway Collection (1990)
Genre: Soul
I'm pretty sure I remember writing extensively about the late Donny Hathaway on my old blog. However, I don't believe I shared one of my biggest favorites by him. His amazing duet with Roberta Flack "Back Together Again," was a megaton hit as far as the Black community growing up. This song was "Black barbecue" worthy music! Released in 1980, the song reached #8 on the Top 100 Charts. Interesting that (according to the billboard chart) the song also reached #8 on the R&B charts as well. I thought this should  have been number one, as the song practically became an anthem in the Black community.
Duets Seemed To Have Been Her Specialty!
You know, in my opinion Roberta Flack is amazingly talented (at least in the studio, I've heard quite a few of her live performances and they were boring as hell (sorry to say)). However, I couldn't help but to notice that about after her third album, a lot of her well known hits seem to have been duets. And she's done quite a few of them! I find that interesting as well, because she must have had good professional relationships with people in the industry. Artists normally don't get to do duets with huge names unless you've been in the industry for decades (with more than one or two major hits under your belt). I guess her three #1 singles "The First Time I Ever Saw Your Face (1969)," "Killing Me Softly (1973)," and "Feel Like Makin' Love (1975)" were big enough to make everybody want to work with her! LOL Although, it doesn't appear she's written any of those 3 songs.
I'd Say, Roberta Has Sung Some Of The Most Romantic Music Of Her Time! Without Any Exaggeration!
You know…. Even today, when I listen to Donny's old music, I'm still in complete shock that he lived with mental illness all those years! Performed for millions and millions of people, yet he was mentally impaired. In someways it's fascinating to me how as an artist he was able to access the creative side of his brain, yet separate the mental illness (or at least kept it at bay for as long as he could). We truly lost a phenomenally talented man in my opinion. Imagine if medicine knew then what it knows now, I think he'd still be a live. No reason he wouldn't be.
Sooooo Many Covers Of This Great Song Was Done!
"Back Together Again," was such a great song, unless you had absolutely no talent, there was no way you could have messed up this song! ? So many covers by so many different artists it was not funny. Check out some of my favorite cover versions by Maxi Priest, Tony Mombrelle & Chantae Cann, Tony's house remix of this song is hot too! Also check out the legendary Freddie Jackson, and finally, listen to this smooth jazz cover by Gordon James.
Song: It's Mashed Potato Time
Artist: Dee Dee Sharp
Album: It's Mashed Potato Time (1962)
Genre: Dance Grooves
Shamefully, although I remember this artist as though her music was out yesterday, however in the music world today, she has drifted towards the vacuum of obscurity. This woman was once one of the hottest acts of the 60s! She could have easily been another Mary Wells as far as I'm concerned! Her biggest hit came during the 50s-60s dance craze era. The song was called "It's Mashed Potato Time!" The song was released in 1962, and became an instant hit! It reached #2 on the Top 100, and #1 on the R&B charts, making it the biggest song of her career! This song was so popular, she had the nerve to come out with another song called "Gravy (For My Mashed Potatoes)." Now that I think about it, it was completely hilarious.
Mashed Potato Time, Was The Biggest Hit Of Her Career!
Now, just think about it for a minute. This song was released more than 5 years before I was born, and remembering hearing this song even as a very young boy, tells me just how majorly popular this song was! Come to think of it, I never did learn how to do "The Mashed Potato." Even if I wanted to, there were just too many dances goin' on to keep up with all of them anyway. These dance crazes were so important for the Black community back then. It was one of the very few things that helped us deal with the massive racism.
I Never Did Learn How To Mash Potato! ?
Despite her big dance hit, I think she was also extremely underrated as far as her other music. Dee Dee had an incredible voice! I am just dumbfounded that (at least when I examine the music charts) music lovers only responded to her dance music and not her ballads. I guess it is possible that fans were so moved (hard) by her dance music, they really didn't want to hear any other type of music by her. However, I highly recommend that you check out some of her ballads. She's made some incredible covers too!
I Highly Recommend That You Check Out Her Ballads!
One badass song I think you should check out, is a song called "I really Love You (1965)," the musical arrangements for this song was perfect! As far as I'm concerned, this was an ignored gem, barely reaching #78 on top 100. Also listen to her cover of Jerry Butler's 1958 hit "For Your Precious Love (c.'60s)," a lot of people refuse to believe we are losing our culture; her cover of this song doesn't appear to be listed anywhere on Wikipedia. Even on discogs I had trouble finding (had to use advanced search! WTF?).  So sad, it's an amazing song. Listen to her cover of 10CC's 1974 hit "I'm Not In Love (1975)," you know the way she sings this song, she reminds me a lot of the late Nancy Wilson. Lastly, check out her cover of Jackie Wilson's 1958 hit song "To Be Loved (1963)." At the age of 74, she is still performing!
Song: When You Are Who You Are
Artist: Gil Scott-Heron
Album: The Revolution Will Not Be Televised (1971) (1988)
Genre: R&B
Another forgotten phenomenal musician! Well, perhaps forgotten in the mainstream world, but in the world of Funk and Jazz, I think he's well remembered. In my opinion, in terms of musical status (or popularity if you will), I considered him among the same ranks as Jimmy Hendrix. Keep in mind, I mentioned "popularity," not meaning to infer that their music are similar. I think their paths were obviously very different.
Gil Scott Was Very Politically Conscious!
The late Mr. Gil was very politically conscious. Growing up, none of my family (that I can recall) had any of his music. However, if I heard him on the radio or on TV I savored the moment and just enjoyed what I heard. I was too young to fully understand half the sh*t he said, but some how I knew there was some serious messages in his music. I admired him so much because he wasn't just a politically conscious Black musician, he was one of the few well known music figures that actually went in to the communities and literally showed you the challenges of the Black communities. Very few musicians I can think of right now that were that passionate about educating the Black community. The only person that comes to mind at this moment is James Brown. And even then I wonder? Mind you, not saying James did nothing for the community, but there's a difference between showering the Black community with money, and actually being in the Black community. Not to disrespect the late entertainer, but the more I reflect as I get older, I felt that James was motivated by pure fear (after the assassination of MLK) rather than "helping the community." Fear in a selfish way. After the assassination of MLK, I felt that he was more concerned that it would have effected his ability to perform in the Black neighborhoods. I could be completely wrong about that, but….. Just my opinion.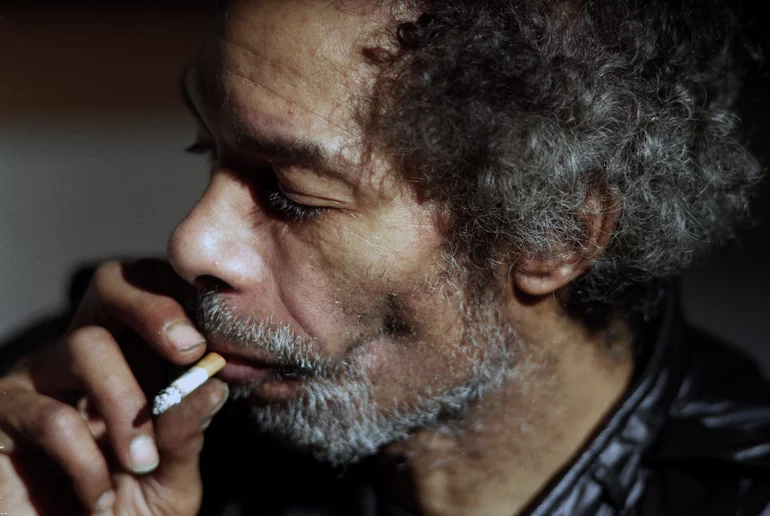 Well, enough of my soapbox. During America's political climax of the 60s-70s in regards to Black Americans, probably (I think) the most well known song (or perhaps technically not really a song) was called "The Revolution Will Not Be Televised (1971)." I know some of my young readers may not like to pay attention to lyrics, but I do recommend that you take the time to listen to that song. It is a true direct representation of what Blacks were going through in the seventies, and in many ways still going through. Shifting the topic a little, there's a song Gil did that became one of my favorites, and it's called "When You Are Who You Are." I think what attracted me to this song was, lyrically speaking, it was one of the very few songs I've heard where the male artist sings loving someone for who they are, and not having the need to try so hard to impress him. The lyrics are just beautiful, as well as the music being nice and funky!
Shop @ EA Mart
Song: Kiss And Say Goodbye
Artist: The Manhattans
Album: Kiss And Say Goodbye (1982)
Genre: Soul/R&B
You know, The Manhattans were such a major popular group in the seventies, I didn't even realize they only had a couple of hits during their entire career. This amazingly talented group was born in NJ, about 1962. An interesting fact I never knew about The Manhattans, was that each and every one of them joined the armed forces. To my understanding, the pretty much formed the group almost immediately after they were discharged.
They All Listed In The Armed Forces!
Their signature song "Kiss And Say Goodbye," reached popularity beyond all expectations. I can't even begin to find the words as to just how popular this song was. I don't think I can describe to even if I tried. This song cemented their names in music history. It appeared that almost every house party we had growing up, had to end with that song playing. Almost every person of color had this album, or the 45rpm (bear minimum). If you didn't own this album back in the day, people would look at you in total shock! Yet, at the same time, this was one of those weird things I never understood about my elder generation. Because this is really a breakup song, yet people danced to this as if it was a happy romantic song. Maybe it was all in the rhythm? I have absolutely no idea! ?
"Kiss And Say Goodbye" reached #1 in 1976 on the Top 100, and stayed on the charts for about 25/26 weeks. The song also hit #1 on the R&B category, #1 in Canada, and #1 in Netherlands, and #4 in both Australia and the UK. That's how significant this song was, everyone from every age and walk of life responded to this amazing song! Their next and last huge hit was a song called "Shining Star (1980)." The song peaked at #5 on the Top 100, #2 in New Zealand, #6 in Canada.